Male Fashion of the 18th Century
---
Part Three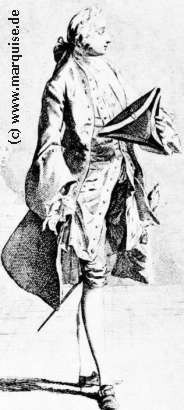 Gentleman by Gravelot, 1730s
Sleeve cuffs have neither grown nor shrunk, but the justaucorps has loosened a bit overall. Especially the skirts have reached their maximum - if laid out flat, the skirts would be a full circle or more. The curve in the front edge has also become more prominent.
The working buttons of the gilet have shifted upwards and become fewer, leaving the bottom of the waistcoat to flap open more. The pocket flaps on both gilet and justaucorps are very large.
The shoes now sport large, decorative buckles behind which the smaller flaps almost vanish. The heels are lower and larger, the toes rounded.
A new style of wig has appeared: Instead of the short "post-allonge" with curls all over, the new wig only has curls around the face, while at the back there is a bag of black taffeta, bound with a large bow - the bourse which gave this wig style its name. Another, similar new wig style is the pigtail, which has no hair bag. The tricorn hat has diminished in size - this is how it will remain for the next couple of decades.

---