Fancy feathers 1866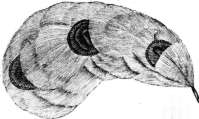 First, take a long goose feather for the foundation, and with some gum-Arabic stick on it little short feathers which have been trimmed as in Fig. 1. Begin at the point of the large feather and gum on one short feather, then three, then four, then five. As you go on the feathers should be cut shorter and more pointed, and the end should have pater twined round to finish it. Peacock or bright coloured feathers are frequently introduced with good effect. Fig. 2 represents the work commenced. Fig. 3 is the feather completed.
Godey's Lady's Book
Content, layout and images of this page 
and any sub-page of the domains marquise.de, contouche.de, 
lumieres.de, manteau.de and costumebase.org are copyright (c) 1997-2016 by A. Bender. All rights
reserved. Reproduction prohibited - exceptions see Copyright Page.




This work is licensed under a Creative Commons License.