Bobbin lace insertion 1895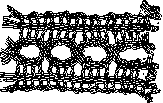 Click here for instructions part 1, and instructions part 2,
instructions part 2.
(in German)
Dies Blatt gehört der Hausfrau
Content, layout and images of this page 
and any sub-page of the domains marquise.de, contouche.de, 
lumieres.de, manteau.de and costumebase.org are copyright (c) 1997-2016 by A. Bender. All rights
reserved. Reproduction prohibited - exceptions see Copyright Page.




This work is licensed under a Creative Commons License.