Male Fashion of the 18th Century
---
Part Four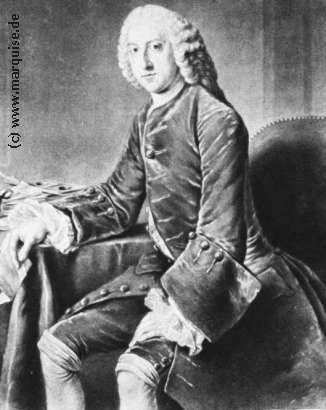 William Pitt, 1750s
And here Mr Pitt proves that the "post-allonge" style of wig as well as the fashion of pulling the stockings over the breeches remained in use for quite long. It may be due to his high social rank, or to his being a conservative person.
The gilet is invisible here, so it must have become shorter than the mid-thigh length seen earlier. The justaucorps is now buttoned higher up, over the top of the belly or over the chest. The now prominent curve of the front edge does not allow the justaucorps to be buttoned across the belly, or at least not comfortably. Note how tightly it fits at the waist. The skirts of the waistcoat have diminished again. The sleeve cuffs are also a tad smaller.
Not visible here, the heels of the shoes are often about an inch high and, if the wearer is a member of the nobility, red in colour. This prerogative of the nobility has later been a dead (literally) giveaway during the French Revolution.

---