! -- www.marquise.de/rokoko/index.html -->
La Robe Ó l'allemande
Foreword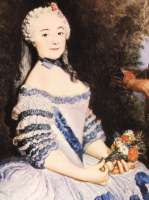 An Actress in Berlin
When looking at portraits of the early to mid 18th century, I discovered that many ladies wore a kind of dress that is not covered in any of the costume books I have. There is lots of material on maneaux or mantuas, robes à l'anglaise, à la française, à la polonaise etc, but this one is never mentioned anywhere. It did look a bit like French court dress, but not quite... and the ladies wearing them were not necessarily of such station or depicted in such circumstances that I would expect them to be in court dress - i.e. members of the royal family..
As it appears so often German portraits but rarely in paintings from other countries (and then only on royals) I call it robe à l'allemande for want of an "official" name. The name (meaning German dress) is modeled on the terms robe à la franšaise (French dress) and robe à l'anglaise (English dress) - but mind you, I am not saying that this dress was uniquely German, or that it even deserves a name that implies such a high degree of distinctiveness as "anglaise" and "franšaise" do. Quite contrary, I'm actively trying to hunt down non-German examples to disprove me!
The silence of my sources fired up my curiosity, so decided to start a research project. What I wanted to discover was
How can it be distinguished from other dress styles, such as French court dress?
How is it constructed?
Was it really so widely used in Germany?
Why does it appear so often on German ladies, but not on French, English etc ones?
For what occasions was it worn and by whom?
What style did it develop from and what did it develop into?
During which period was it worn?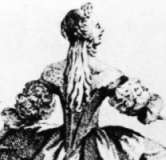 "Minuet" by Nilson
This is an ongoing project, so these pages are subject to change every now and then, when I have learned new things. A number of kind people who were equally fascinated have sent me descriptions and pictures of garments they've seen that fit my description of the Allemande. I would like to thank all of them at this point - thank you for your kind help! If you, dear reader, have any information pertaining to this peculiar dress, please let me know!

The sub-pages which are accessible via the menu below are modeled on my questions above. Anything I say therein should be considered preliminary.
Image sources:
Nilson's "Minuet": Boehn, Max von: Der Tanz, 1925
Coronation Gown: Livrustkammaren, Stockholm. Kindly provided by Elisa
Actress in Berlin, Mme Maintenon: Thiel, Erika: Die Geschichte des Kostüms. By A. Pesne
Maria Antonia: Gemäldegalerie Alter Meister, Dresden. By A. R. Mengs
Stomacher jewelry: Residenzmuseum München
Meta Klopstok: Museum für hamburgische Geschichte, Hamburg
Content, layout and images of this page 
and any sub-page of the domains marquise.de, contouche.de, 
lumieres.de, manteau.de and costumebase.org are copyright (c) 1997-2022 by Alexa Bender. All rights
reserved. See Copyright Page.

GDPO




This work is licensed under a Creative Commons License.