Sewing Stitches
after Garsault (1769)
The following picture is taken from: de Garsault, M. L'art de la lingère. Neuchâtel 1780 (reprint of the 1769 first edition). It illustrates the stritches used for lingerie sewing, but most of them were used for top garments as well. Watch point: Read each line in the picture from the right. The lowercase letters show the sequence of the stitch.
A
le surjet
whip stitch
B
le point noué ou de boutonniere
buttonhole stitch
C
le point de coté
seam stitch
D
le point devant
running stitch
E
le point de chaînette
chain stitch
F
l'arriere-point
back stitch
G
Economy seam: Running stitch with the occasional back stitch
H
above: chain stitch sequence,
middle:flat-felled seam as seen from the outside
below: beginning of a button hole
M
above: finshed flat-felled seam seen from the inside
below: lace
K
cross stitch for embrouderinginitials, finished button hole
L
decoration for the wrist cuff of a man's shirt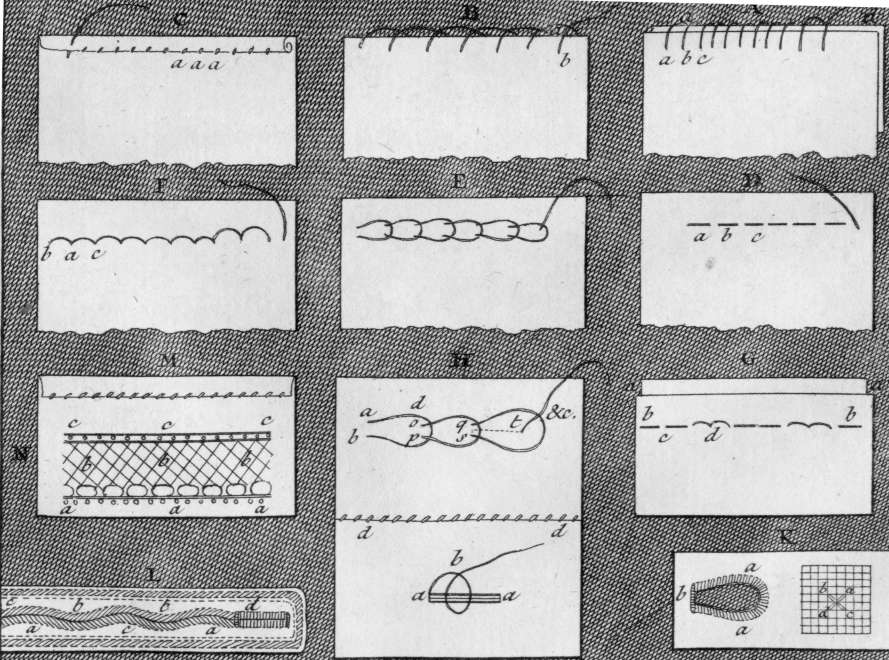 Content, layout and images of this page 
and any sub-page of the domains marquise.de, contouche.de, 
lumieres.de, manteau.de and costumebase.org are copyright (c) 1997-2022 by Alexa Bender. All rights
reserved. See Copyright Page.

GDPO




This work is licensed under a Creative Commons License.