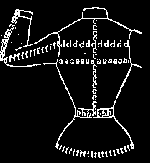 Period Patterns and the Modern Figure
The most dangerous thing when using a period pattern is to believe that if it's labelled "size x", and your clothes size is x, you can use the pattern as is and the garment will fit. It's almost certain that it won't. Even the standard sizes we are used to today change every now and then according to changes in the average woman's body shape. So although a pattern seems to be your size, better take its measurements before you use it! Even then, make a mock-up from cheap fabric before you cut into your grandma's silk brocade.
Fortunately, you cannot fall into this pit if you use the patterns on this site: some don't give any measurements at all, some only the bust and waist width. In this case, the problem is determining the missing measurements of the pattern. I'm going to deal with this on an extra page.
What was considered a normal figure?
None of the original patterns I own supports the legends of the "18 inch waist" or anything smaller. The smallest size I've come across in period patterns is about 22 inches, which is still fairly small, but probably not too far away from a slender person's natural waist width.
The measurements in the following table are taken from original sources, all in centimetres. They are referred to by means of a picture, dated 1902, that shows how and where they were taken. The letters in the pic correspond to those in the table. All sizes in centimetres.
For better comparison, and because it's fun to look down the timeline and see how women got taller and wider in the middle, measurements for German size 38/French 40/US 12 from 1962 and 1997 Burda patterns are included.
1879*
1892-96*
1902-06
1908
1913**
1962
1997
a (bust)
90-96
94-96
92
90
96
86
88
b (waist)
58-64
54-60
56
58-60
66
64
70
c
36
38
38
38,5
41
d
30
30
35
f + g
58
47
58
60
h
27
i
20
k
32
39***
43***
44,5***
m (includes k)
50
o (collar)
37
34
36
t (hip)
104
101
98
92
94
front skirt length (height)
104****
(164)
(168)

*) The sources don't mention any "normal", standard measurements. These are samples from patterns.
**) The paper actually gives five sizes; the table contains II (second smallest). The sizes range from breast 88 to 120, waist 60 to 90, hip 92 to 130, skirt length 102 to 108.
***) from top of shoulder to waist
****) from this length it can, with some caution but supported by demographic evidence, be concluded that 160-2 was considered an average height.

The EU ministers of health: Corsets endanger your health...
As you can clearly see, the waist widths were very small, while hip widths seem too large in comparison. Unfortunately we don't have any 1880s hip measurements, but they would have been even wider to accomodate the tournure. In 1902, no tournure was worn anymore, but the petticoats (plural!) still had some volume. The flat-front "S" look, on the other hand, required flattening of the breast, resulting in smaller bust widths. The waist widths could of course only be achieved by wearing a tightly laced corset.
If you think about the fact that a woman who would probably have had a natural waist width of about 70 (judging from a modern woman with similar bust width) had to lace down to less than 60 every day, it becomes understandable that many suffered physical damage so serious that physicians complained and called for the banishment of the corset. Sing songs of praise to the suffragettes and the reform movement!
Here's a picture from a contemporary "corset-bashing" booklet.
But back to patterns and body shape: Either you change the pattern a lot to fit your body (wouldn't look very good), or you form your body to fit the pattern with the help of a a corset, which wouldn't be very comfy. Without training you probably wouldn't be able to lace down more than 5 cm or so and stand it for more than an hour. With training, you will endanger your health. There are contemporary reports e.g. of a lady who fell and broke a rib that was pressed inwards by the corset where it pierced vital organs, leading ti the lady's death. [It's obvious that I'm not in favour of tight-lacing, but it's up to you. As King Fritz said, "Jeder soll auf seine façon glücklich werden..." - Everyone shall be happy the way the like. ;-)]
But there's a way out...
Remember that not all women laced down that much, so you don't have to, either. (Just look at the period photographs.) The most important thing is that the relative sizes of bust, waist and hip are right. And that leaves, of course, two ways: compressing the waist - and padding the bust and hip. *g*
It's an awful lot easier with 16th-18th century corsets. Contrary to their bad reputation, they weren't half as uncomfortable and dangerous as 19th ct. corsets. In fact, they can be worn for hours without any training at all. Women in those times normally were, by modern standards, wobbly. Look at a Rubens or Watteau painting to see what I mean. The corsets relied on relocating the soft and wobbly bits (from the side to back and front) and optical illusion (pointy centre front bodices) rather than compressing vital parts. I prefer them any time - and the décolleté looks so much better...
Content, layout and images of this page 
and any sub-page of the domains marquise.de, contouche.de, 
lumieres.de, manteau.de and costumebase.org are copyright (c) 1997-2022 by Alexa Bender. All rights
reserved. See Copyright Page.

GDPO




This work is licensed under a Creative Commons License.